Provided copy and design direction for an intro page for 'course coach' Gina Onativia at Course Creation Boutique. She just finished putting together a course for Giuliana Rancic and Jason Kennedy (which I wrote supplemental/bonus exercises content for!), and her services were mentioned in the course—this would be the page cold leads, who are just learning about course creation, would visit to learn more.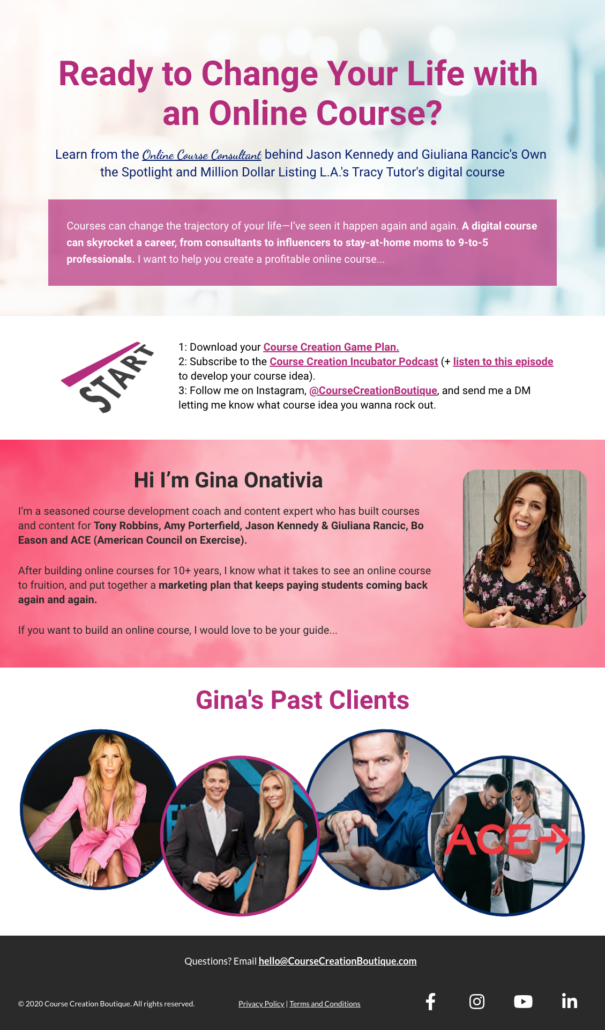 The goal in writing and building out this page was to provide an easy path for new potential clients to take to work with Gina.
The goods: Website copy, site design (but not build out), and graphics.
The strategy: We wanted to keep this page short and sweet—only giving users a few options to leave the page.
The intro was about giving Gina authority/credibility. People coming to this site don't yet know her, they've just been given the link to learn more about how course creation can amplify their business.
The second part of this page is about conveying the value of on online course for businesses. I focused on her credibility again, gave (vague) examples, and painted a picture of the possibilities.
The next major decision was the next-step options. We wanted to give the user options to connect—whether it's through her podcast, on Instagram, or by downloading a lead magnet.
In general, the copy was short, sharp, and direct. I wanted to let her clients/experience do the talking, to give the user confidence in her ability and get them excited to have the same success she's helped other course creators find.
The extra: The copy was 'designed out,' and broken up into sections with design notes on where to include images/icons, but Gina was unhappy with the final look once the designer/builder finished with it. I used Canva to create a mock of the page design, using backgrounds, colors, and text size ratios I knew would work better. (You can see the Canva design, which was resent to the page builder > here.) I also created the graphic at the bottom, choosing Gina's biggest clients to highlight.